Register for RentalPerks.com for instant access to unbeatable discounts on Rental Cars, Hotels, Theme Parks and More!
Membership

has its perks
Pssst....there's more. Join RentalPerks.com for exclusive discount offers on Hotels, Tickets, Theme Parks & Experiences.
A few top brands include: Hotels.com, Walt Disney World DisneyLand®, Universal Studios, AMC Theatres and many more.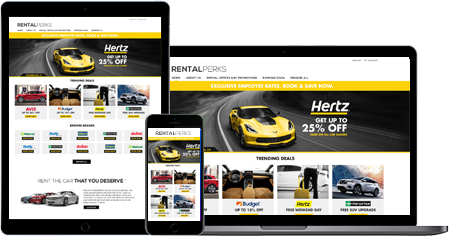 Join Free Forever
You're in good company. Register for RentalPerks.com and gain instant access to car rental discounts on Avis, Budget, Hertz & more.
Lifetime registration is 100% free to all employees.
We absolutely respect email privacy. Privacy Policy
Orlando
car rental

guide
Tips, Tricks & Key Hacks
AVIS
AVIS is a full-service luxury car rental company with over 5,000 locations in over 165 countries. AVIS offers car rental services across the United States and North America, with pick-up and drop-off points at major airports and key tourist locations. AVIS is highly rated for its friendly and efficient staff. Before you travel, you can search that can lower the overall cost.
Save up to 25% OFF base rates at AVIS. Click here or call 800-331-1212 and use AWD# D134100 to receive discount.
BUDGET
BUDGET is a full-service luxury car rental company with over 1,350 locations in the United States and North America, with pick-up and drop-off points at major airports and key tourist locations. BUDGET serves value-conscious customers for all of their car rental occasions. BUDGET consistently delivers a quality product, friendly service and great value that make customers confident that BUDGET is their best car rental choice.
Save up to 25% OFF base rates at BUDGET. Click here or call 800-455-2848 and use BCD# Z408900 to receive discount.
HERTZ
HERTZ is one of the largest car rental companies in the world with more than 1,600 airport locations in the U.S. alone. HERTZ offers a wide range of cars - featuring business-trip standards, as well as high-capacity cars for families and compact economy cars for those on a budget, there's also a rental section of hybrid cars, luxury "dream cars" that are treats for memorable trips.
Save time with thousands of convenient car rental pick-up and drop-off locations all over the world and in your back yard. Take advantage of credit card-free reservation policy to make renting a car from HERTZ a breeze.
Save up to 25% OFF base rates at HERTZ. Click here or call 800-654-2210 and use CDP#: 1742729 to receive discount.
ENTERPRISE
ENTERPRISE Rent-A-Car has almost 6,000 locations across the United States. It is part of the largest rental car company in the world, which owns and operates more than 1.5 million vehicles.
ENTERPRISE has strong positioning with overall customer satisfaction. It's perennially ranked the highest of all the car rental companies. Although ENTERPRISE's daily rate is higher than the average car rental rate, the company has reduced other additional charges, like for drivers under the age of 25, avoiding the competitive travel segment dominated by HERTZ and AVIS, ENTERPRISE is the major player in the "home city" segment of the car rental market, focusing mainly on consumers who require temporary rentals when their cars are being repaired or have been stolen.
Enjoy special discount offers at ENTERPRISE. Click here to view offers and make reservation.
CAR RENTAL TIPS & TRICKS
For best rates utilize discount codes and stackable coupons. For AVIS, BUDGET & HERTZ you can often stack an additional promo code onto their AWD, BCD & CDP #'s respectively. Be sure to search for these codes via the discount links above. Look for incremental discount codes.
Book Early. Book Early. Book Early. Car rental pricing typically follows a supply and demand algorithm. Be quick to book your reservation as rates usually go up closer to pick-up date.
Holiday Weekends. These time periods are high demand and have highest rates and frequently sell-out. To secure a vehicle and a good rate it is critical you plan ahead.
Book online. Some discounts available exclusively online.
Compare prices. If you have time check rates at competing car rental providers as prices can vary – even for the same itinerary and car type. Also, keep checking back as rates can fluctuate and you can modify your reservation if a lower rate becomes available.
Avoid Airport Pick-up Fees - sometimes there are additional fees for airport pick-ups. Compare rates at different locations.
Weekday pricing: The price of a rental car often goes up over the weekend. If any of the rental days are weekdays, be sure to ask about special weekday rates. Check company websites for the best rates.
Chose a smaller car class to save money. The daily rates are often lower and they typically are more fuel efficient.
Avoid returning the car with gas tank below FULL. Rates to replenish are higher than you'll find at the pump.
Check to make sure your car has a full tank of gas. If not, call immediately and alert customer service. Take a picture of gas level on dashboard as proof.
Electronic Tolls - be aware there is frequently an additional charge for using EZ Pass et al for tolls. You are often times better served declining this option.
Avoid Optional Extras - Child Seat, Auto Gas Replacement, GPS, Toll Transponder, Additional Driver and other add-ons will all cost you extra. Avoid unless you really need (note: of course you should utilize a child seat if young children are in the car.). You may not need GPS or other add-ons as they will cost you more. You can use your Smartphone for directions/GPS.
Drivers under 25 may pay a higher rate and accrue a surcharge. Be aware.
Pre-pay options can deliver extra savings. But, be aware of the cancellation fees. Also, often times you can benefit from flexibility as you may find a better deal last minute. Better to use this option within 12-48 hours of your rental.
When picking-up vehicle, inspect closely for damage - particularly scratches and dings - before you leave the lot. Alert a representative if you find any not already noted. Take a picture with your phone as back-up proof.
Don't Return Car Late. Most companies operate on a 24-hour cycle and some have a 15 minute to ½ hour grace period. But if you miss the drop off deadline you will be charged for an additional full day and possibly at a higher rate.
Credit Cards. Most companies require a credit card for rental. Some providers allow debit card, but check ahead of time to confirm.
Request an upgrade. When picking up car it doesn't hurt to ask agent if they can offer a complimentary upgrade. Sometimes they oblige depending on availability.
Avoid renting in major cities. Rates in big cities like New York can be extremely high. If you have flexibility, pick up car outside city limits.
Consider if you are better off with a taxi or public transportation? Many hotels charge you for overnight valet parking and these fees can be quite high. Similarly, when driving to a restaurant, store etc. you may incur a parking charge. Factor these costs when planning your trip. You may find that renting a car is a more expensive option.
Take advantage of long-term rental pricing. Rentals of a week or longer and a month or longer (Mini-lease) can trigger a lower rate structure. When booking, check average daily rate for different lengths and take advantage of special pricing.
Check for Military & Veterans Discounts. Other special groups like Teachers, Students, Employees can utilize special discount codes. See above discounts links for details.
Gas Stations close to Airports and car rental drops may have inflated prices. Seek out gas station as far from airport (or major city) as is possible.
Join Rewards Programs. Loyalty programs are Free are set-up to reward frequent travel. Take advantage of these programs and you may accrue free rental days and receive promotional offers for special deals.